Procurement Management System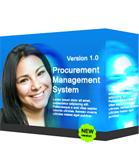 Manage products, categories, suppliers, clients, currencies and lot more.
Create RFQs, quotations, purchase orders, delivery notes, invoices, receipts.
Export list of inquiries, quotations, specifications etc to word/excel & PDF.
Track clarifications/suggestions received from suppliers and clients.
Get quotations from suppliers or inquiries & purchase order from clients directly in your system.
Add markups in percentage or amounts in various currencies and various suppliers before sending quotations to clients.
Generate customized reports for products, clients, suppliers, payments, period or staff member.
No technical skill necessary.
MLM Software

Web based
All features of Multi level Marketing integrated and supported
Recent upgrade to v2.0
For enquires or demo - contact us at web.info@elements.com.np